Location:
Berlin Adlershof, City of science, technology and media - Adlershof con. vent. Exhibition Centre - Rudower Chaussee 17 - 12489 Berlin
Duration:
15 September 2014
-
19 September 2014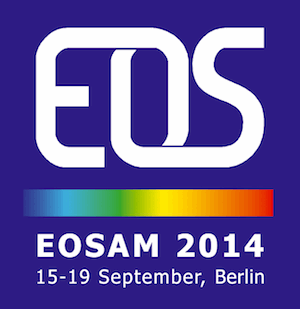 Industrial Exhibition
Exhibition packages information can be found here.  
Sponsorship and Advertising

General Chair: Paul Urbach - Delft University of Technology (NL)
General co-chair: Seppo Honkanen - University of Eastern Finland (FI)
Local Scientific Chair: Rainer Schuhmann –  Berliner Glas KGaA (DE)
OVERVIEW: EOSAM 2014 AT A GLANCE
Eleven Topical Meetings:

EOSAM Summer School on Novelties in Optics and Photonics (Monday 15th September)
Please Note: SUMMER SCHOOL LOCATION CHANGED!

Photonics Entrepreneurship Day/ Welcome Reception on Monday evening by EPIC and Berlin Brandenburg Photonics Cluster (free)
Keynote speeches and interactive panel discussion with networking reception
EOS Annual General Assembly

Industrial exhibition
Exhibition hours:
Wednesday, 17 September: 10:30 - 17:30
Thursday, 18 September:     11:00 - 17:30

Matchmaking event by Berlin Partner

Session: Grand Challenges in Optics

CONFERENCE DINNER
Wednesday, 17 September at 20:30

Come and network at the conference dinner, in a nice, relaxed atmosphere.
We offer you a great buffet with plenty of choice, drinks included.
Restaurant Nolle takes you back to the sophisticated 1920's Berlin.
http://www.restaurant-nolle.de/de/das-restaurant

Price: 60 euros per person
Please fill in the form and send by fax before Tuesday, 9 September.
Additional information: karppinen@myeos.org

Important Dates
Submission deadline: 4 April 2014 30 June 2014
Notification to authors: 18 July 2014
Post-deadline submission: until 4 August
Contributions are accepted for oral and poster presentation. All authors are requested to register separately from abstract submission.

Abstracts must be submitted as two-page pdf files that are formatted along the guidelines given in this file.
You might wish to use either the Word or LaTeX template.
 Abstract submission closed.
Information for authors
Oral presentations
Time slots: Presenting authors are allotted 15 minutes (12 minutes presentation plus 3 minutes for discussion). Please plan your presentation accordingly to meet the 15 minute maximum.
Presentation upload: Speakers are requested to upload their presentation to the computer in the meeting room well in advance to their talk.
Presentation format: Please bring your presentation on a USB mass storage, CD-ROM or DVD and include all video files. File formats: ppt, pptx and pdf. A Windows-based presentation computer will be provided.
For Mac users: To make sure your presentation is displayed correctly, please:

bring your presentation as a pdf-file with fonts embedded or
restrict yourself to Arial/Times New Roman (not Times)/Courier New (not Courier)/Symbol/Wingdings when creating your ppt- or pptx-file.

Technical equipment:   Technical equipment (presentation computer, video projector) will be available on-site.
Poster presentations
There will be one poster session during EOSAM 2014.

Poster session: Wednesday, 17 September  12:45 – 14:45 CEST

Posters may be set up starting 11:15 on Wednesday, 17 September and should be completely set up no later than 12:45 that day.
Poster authors are requested to be present at their posters during the official poster session. Please prepare and print your poster in advance to the conference. Poster set-up and removal is in the responsibility of the authors.
Any posters left on the boards at the close of the poster session will be discarded. Poster numbers will be displayed on the poster boards to show authors where to place their poster.
Required poster size: The posters should have a size of DIN A1 (594 x 841 mm) or DIN A0 (841 x 1189 mm) in a portrait for-mat (no landscape format). Pins will be provided by the organiser.
Registration
Members of the Optical Society of Japan and the Chinese Optical Society are entitled to register with EOS-member fee.
| | | |
| --- | --- | --- |
| FEES | Non-EU participants, EU companies and businesses (except Finland) with VAT number* | Private persons from EU, companies and businesses in Finland with VAT number (incl. VAT 24%)** |
| Early-bird members | 430.00 € | 533.20 € |
| Early-bird non-members | 485.00 € | 601.40 € |
| Early-bird student members | 230.00 € | 285.20 € |
| Early-bird student non-members | 255.00 € | 316.20 € |
| Late members | 530.00 € | 657.20 € |
| Late non-members | 575.00 € | 713.00 € |
| Late student members | 295.00 € | 365.80 € |
| Late student non-members | 325.00 € | 403.00 € |
*EU companies and businesses with VAT number (except Finland): reverse charge for VAT payment applied according to the Finnish VAT act §65 and EU VAT directive articles 44 and 196.
** VAT 24% according to the Finnish VAT act §69H.

Early-bird deadline: Monday 18 August 2014
 
Venue
EOSAM 2014 will be held in Berlin Adlershof, the city of science, technology and media. See map.

http://www.adlershof.de/en/homepage/
 
Berlin Adlershof,
City of science, technology and media
Adlershof con. vent. Exhibition Centre
Rudower Chaussee 17 and 24
12489 Berlin


See the sunny forecast for Berlin during EOSAM:
http://www.weather.com/weather/tenday/Berlin+Germany+GMXX0007
Travel
Getting to Adlershof...

By public transport it takes
10 min from Flughafen Schönefeld
30 min from Alexanderplatz
and 40 min from central train station Hauptbahnhof

By public transport to Adlershof

to download, click on map (PDF) access routes ÖPNV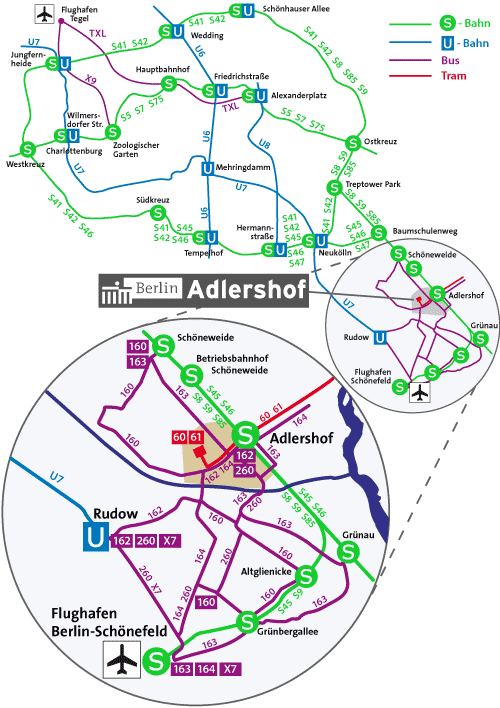 Congress Railway Ticket
Travel comfortably and climate friendly to your event in Berlin
http://convention.visitberlin.de/en/article/congress-railway-ticket
Accommodation
Rooms in the following hotels can be reserved at a special conference rate before 15 August 2014 (Please mention the reference "EOSAM 2014" when making reservation):

DORINT HOTEL, Adlershof, Berlin
For reservations, call: +49 30 67822-0
E-mail: nadine.dahlke@dorint.com
Website: http://hotel-berlin-adlershof.dorint.com/ 


Journal Papers in JEOS:RP
Presenters at an EOS Topical Meeting are kindly invited to consider the submission of a manuscript about their research to the EOS open-access on-line journal JEOS:RP (Journal of the European Optical Society, Rapid Publications, www.jeos.org). A 20% discount will be applied to the author fee. JEOS:RP publishes articles about recent scientific research and technological innovation as well as review papers about a topic in science or innovation from the recent past. A contribution should be original and will be subjected to the journal's standard anonymous peer review process for scientific quality. The average time-to-publication of the journal is of the order of 75 days.
 
This conference is operated by European Optical Society Oy, Business ID 2559965-4, VAT no: FI25599654, Domicile Joensuu, Finland.